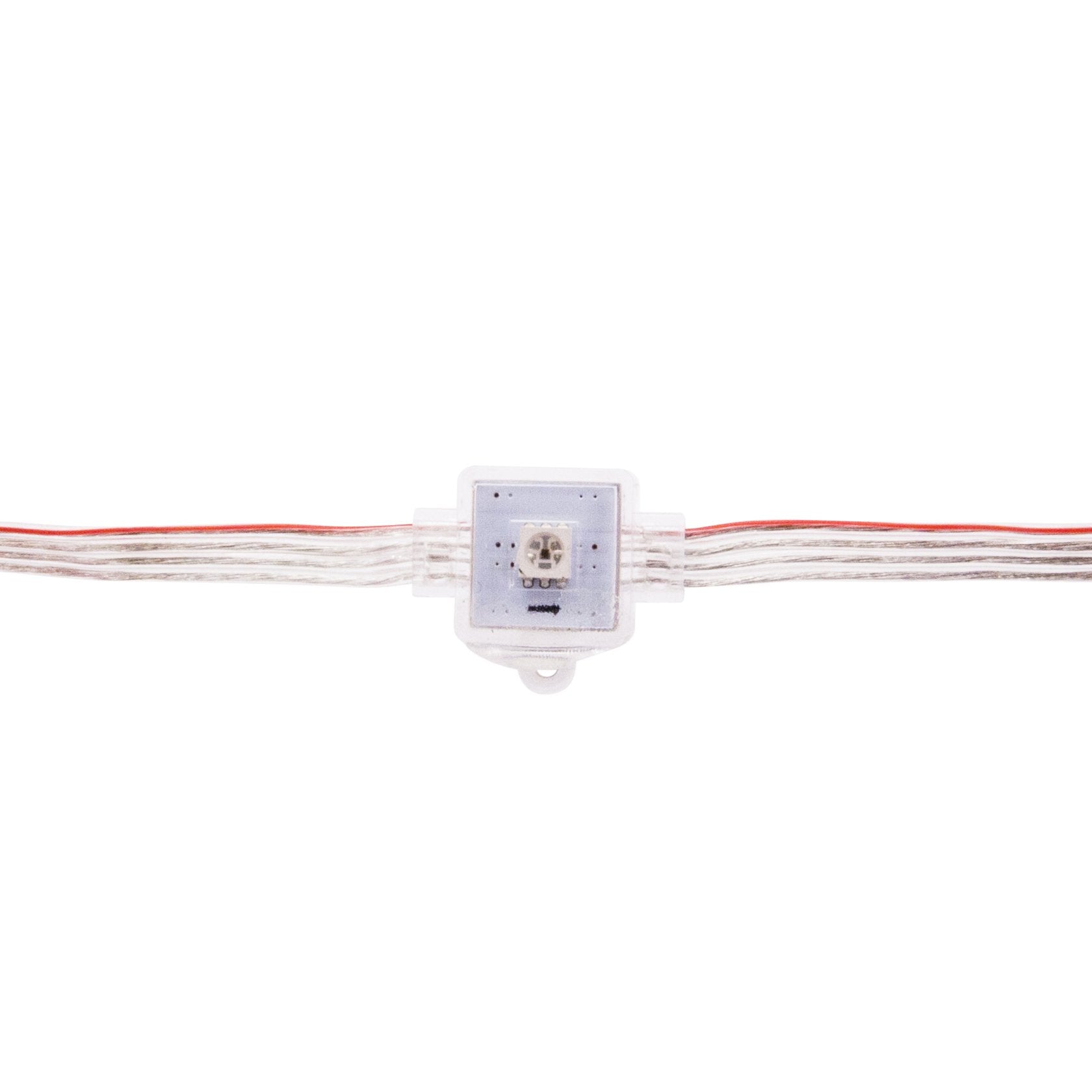 5V Pixel Dots
SKU
O5VMOD5050D4PRGBAPA102
Save

Liquid error (snippets/product-badge line 32): Computation results in '-Infinity'

%
Individual controlled pixel dots.
5 Volt, APA 102 Chips.  Compatible with our LXFXBX & PixlArt416 controllers.
Pixel Product Installation Notes:
The PWM frequency (dimming frequency) is baked into the pixel and cannot be changed.  You must ensure you choose the right pixel strip for your application.  If you are unsure of what camera settings are going to be in use, it is best to go with high frequency pixel tape (8khz or higher / GS

8208

or APA

102

)

Avoid voltage drop by positioning a power supply close to the LED and/or powering the LED from multiple locations (or via multiple power supplies)

The power supply that is providing power to the controller (PixlArt416) does not need to be the same power supply that is powering the LED.
Controller, power supply and extension cables are sold separately based on your project

Quantity discounts available

Custom colour temperatures, pixel densities, and PCB colour are available

Please contact us for more information
SPECIFICATIONS - WEATHERPROOF (IP66) PRODUCT
| | | | | |
| --- | --- | --- | --- | --- |
| Product Type | : | RGB Raw Pixel Module | RGB Diffused Pixel Module | Cool White, Warm White, Amber Raw Pixel Module |
| Product Code | : | O5VMOD5050D4PRGBAPA102 | O5VMOD5050D4PDRGBAPA102 | O5VMOD5050D4PDWCAAPA102 |
| CRI | : | N/A | N/A | N/A |
| Kelvin | : | N/A | N/A | TBD |
| PCB Color | : | White | White | White |
| Current, Rating | : | 0.06A / Pixel | 0.06A / Pixel | 0.06A / Pixel |
| Voltage | : | 5 VDC | 5 VDC | 5 VDC |
| Wattage | : | 0.3 W / Pixel | 0.3 W / Pixel | 0.3 W / Pixel |
| CC / CV | : | Constant Voltage | Constant Voltage | Constant Voltage |
| IP Rating | : | IP66 | IP66 | IP66 |
| Lumens @ Full | : | N/A | N/A | N/A |
| Lumen / Watt | : | N/A | N/A | N/A |
| Lifetime* | : | 30,000 hours | 30,000 hours | 30,000 hours |
| Pixel Pitch | : | 3.15" / 8CM | 3.15" / 8CM | 3.15" / 8CM |
| LED Quantity | : | 1 LED | 1 LED | 1 LED |
| Number of Contacts | : | 4 | 4 | 4 |
| LED Type | : | 5050 | 5050 | 5050 |
| Copper Quantity | : | 3 Oz. | 3 Oz. | 3 Oz. |
| Temperature, Operating, Maximum | : | 70 C | 70 C | 70 C |
| Temperature, Operating, Minimum | : | -40 C | -40 C | -40 C |
| Agency Ratings | : | CE, RoHS | CE, RoHS | CE, RoHS |
| Dimensions | : | 18MM Diameter | 20mm Diameter | 18MM Diameter |
|  Maximum Recommended Length | : | 300 Pixel Dots | 300 Pixel Dots | 300 Pixel Dots |
| Viewing Angle | : | 120 degree | 120 degree | 120 degree |
| Adhesion | : | Mechanical Fastener Required | Mechanical Fastener Required | Mechanical Fastener Required |
DOWNLOADS
Specification Sheet

 RoHS Test Report
*nominal lifetime - dependent on installation location



SaveSave
Save
Save
Save
Save
Save
Save
Save
Save
Save
Save
Save
Save
Save
Save
Save
Save
Save
Save
Save
Save
Save
Save
Save
Save
Save
Save
Save
Save
Save
Save
Save
Save
Save
Save
Save
Save
Save
Save
Save
Save
Save
Save