Team MossLED
Moss LED
was founded in 2009 to address the growing demand for innovative LED products in cinema, television, and live entertainment industries.  We have been an industry leader in flexible LED lighting, dimmers, power supplies, and cabling systems.  
These are just some of the film & television shows that we have had the pleasure of being a part of; Star Trek Discovery, The Expanse, Suits, Modern Family, Big Brother Canada, American Gothic, Schitt's Creek, MasterChef Canada, Big Brother Canada, the Juno Awards, the Canadian Screen Awards, MuchMusic Video Awards, and TSN.
In addition to Film & Television productions, our products are also used in live entertainment, commercial and industrial applications as well.  Our products are used 24/7 365 in demanding environments such as 24-hour casinos, skyscrapers, restaurants, bars and nightclubs.
We offer complete order customization so that our clients get exactly what's needed for their project.  We start out by offering custom PCB designs, couple it with custom LED brightness specifications, colour temperatures, chip sizes, and finish it off with reliable connectors.  We've manufactured customized products with specific UV wavelengths, IR wavelengths, full spectrum kelvin, high-density PCB, low-density PCB, and everything in between. 
We try and make installation a breeze, whether you are utilizing thousands of our products, or just one.
We invite you to look around our website and feel free to contact us if you have any questions.
To summarize:

MossLED designs, develops, manufactures and distributes low profile LED products that are designed specifically for film, cinema, television, and anywhere high quality lighting is required. We are an industry leader in Flexible LEDs featuring High CRI, Consistent Colours and Consistent Colour Temperatures. We are committed to our customers and offer customization, consulting and installation by our passionate and dedicated staff. We pride ourselves on putting our customers first by providing the most innovative products at the best possible prices and are to be an industry leader in low profile LED lighting technologies.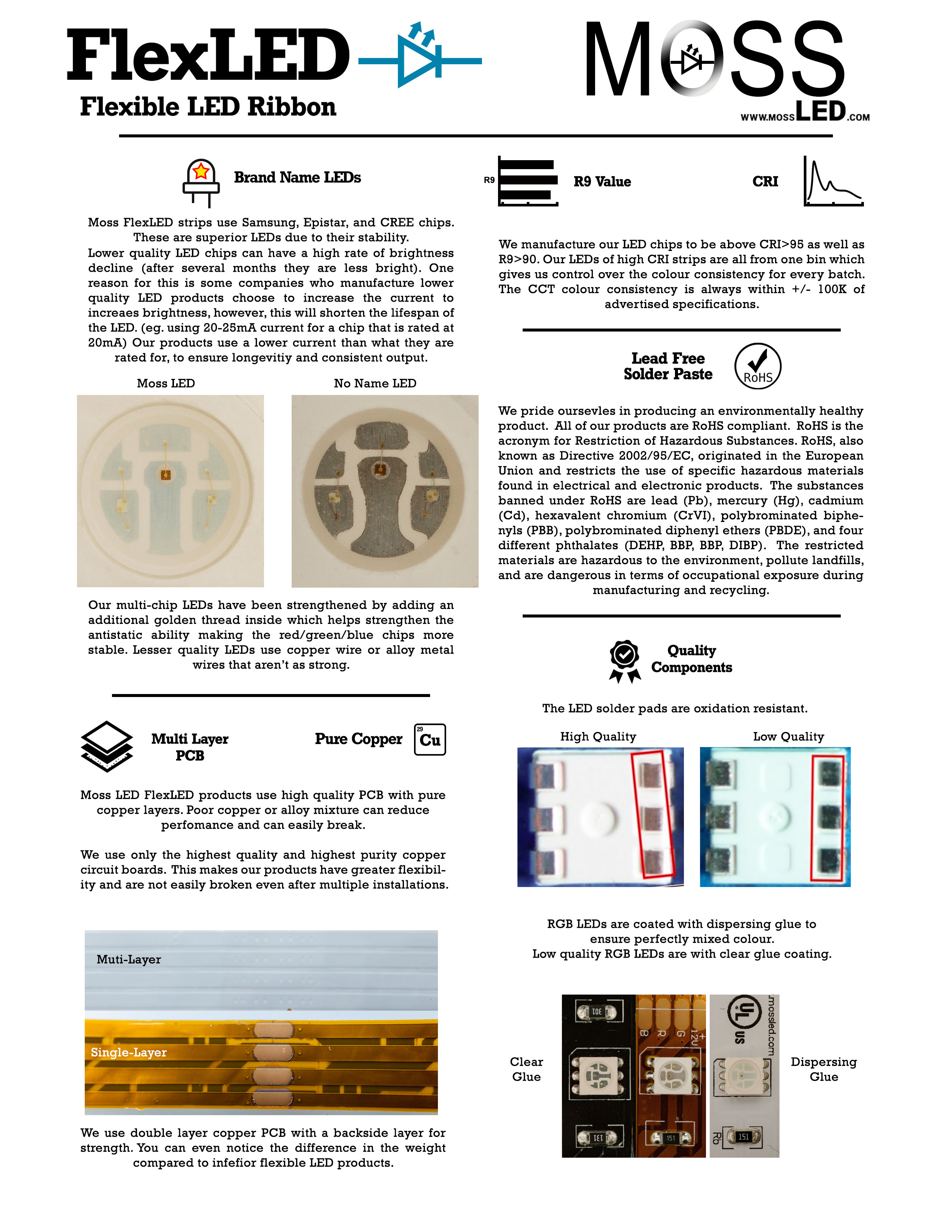 Save
Save
Save
Save
Save
Save
Save
Save
Save
Save
Save
Save
Save