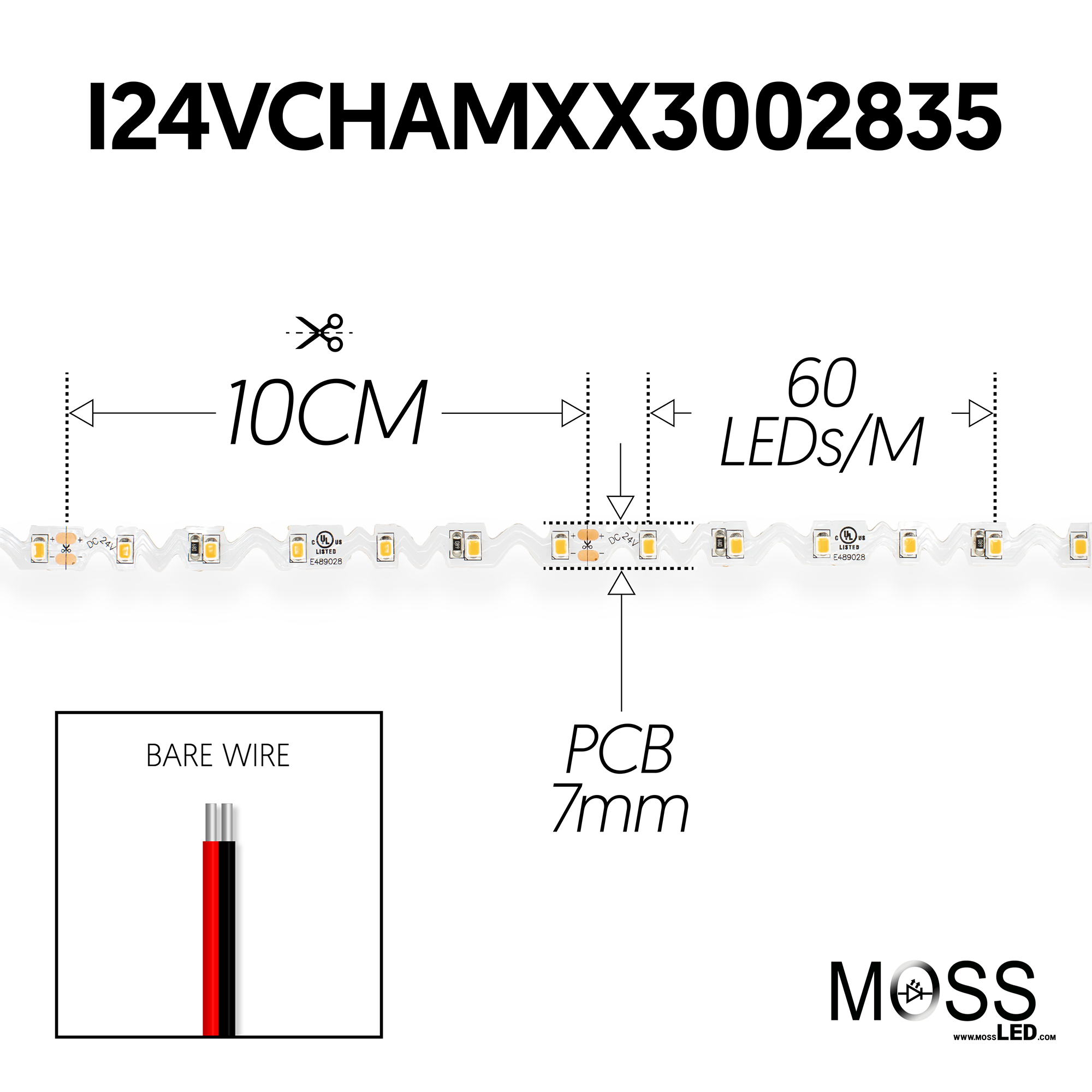 FlexLED Chameleon 24V (Fully Bendable)
Save

Liquid error (snippets/product-badge line 32): Computation results in '-Infinity'

%
This tape is bendable in any direction and highly flexible due to the V-shaped cuts in the circuit board as well as a lower amount of copper used. In order to accomodate the reduced copper quantity, this tape is less dense, less bright and draws less watts/meter than our standard FlexLED. However, it is extremely useful in many situations where standard linear FlexLED will not work.
Suitable for residential, television, industrial, commercial applications and signage applications.
Available in the following variants:
2700K
3000K
4100K
5600K
Dynamic White
RGB
RGBA
RGB+W (2700k / 4100k / 5600k)
3M double-sided tape on the back makes installation as easy as peel n stick. Controller, power supply and extension cables sold separately.
Custom colour temperatures available.
Please call to inquire. RGB and RGBA variants are currently non-stock items and may take 3 - 4 weeks for delivery. Please call 1.800.924.1585 or email info@mossled.com to inquire.

SPECIFICATIONS - INDOOR PRODUCT
Product Type
:
Chameleon Dynamic White
Chameleon White
Chameleon RGB
Chameleon RGBA
Chameleon RGB+W
Product Code
:
I24VCHAMBC27604802835
I24VCHAMXX3002835
I24VCHAMRGB2105050
I24VCHAMRGBA2405050
I24VCHAMRGBWXX2405060
CRI
:

⩾90

⩾90

N/A

N/A

⩾90

Kelvin
:
2700k - 6000k
2700k / 3000k / 4100k / 5600k
Colour Changing

Colour Changing + 2700k / 5600k

PCB Color
:
White
Current, Rating / Meter
:
0.625A
0.45A

0.42A

0.64A

0.64A

Voltage
:
24 VDC
Wattage / Meter
:
15 W
10.8 W
10 W
15.36 W
15.4 W
CC / CV
:
Constant Voltage
IP Rating
:
IP43
IP43
IP43
IP43
IP4
Lumens @ Full
:
TBD
926.4 lm / meter @ 2700k
1097 lm / meter @ 5600k
TBD
TBD
345.4 lm / meter @ 5600k @ Full
Lumen / Watt
:
N/A
83.32 @ 2700k - 98.52 @ 5600k
N/A
N/A
87.6
Lifetime*
:
30,000 hours
Cutting Length
:
12.4 CM
10 CM
14.1 CM
10 CM
12.5 CM
LED Quantity
:
96 LED / meter
60 LED / meter
42 LED / meter
48 LED / meter
48 LED / meter
Number of Contacts
:
3
2
4
5
5
LED Type
:
2835
2835
5050
5050
5050
Copper Quantity (Ounces)
:
1 (low copper count for flexibility)
Temperature, Operating, Maximum (Celsius)
:

70°

Temperature, Operating, Minimum (Celsius)
:

-40°

Agency Ratings
:

UL - E489028, CE, RoHS

UL - E489028, CE, RoHS

UL - E489028, CE, RoHS

UL - E489028, CE, RoHS

UL - E489028, CE, RoHS

PCB Width
:
12MM
6.5MM
12MM
12MM
12MM
Maximum Recommended Length
:
5 meters
2 meters
5 meters
5 meters
5 meters
Viewing Angle
:

120°

Adhesion
:
3M 200MP
DOWNLOADS
Specification Sheet

UL Certificate of Compliance