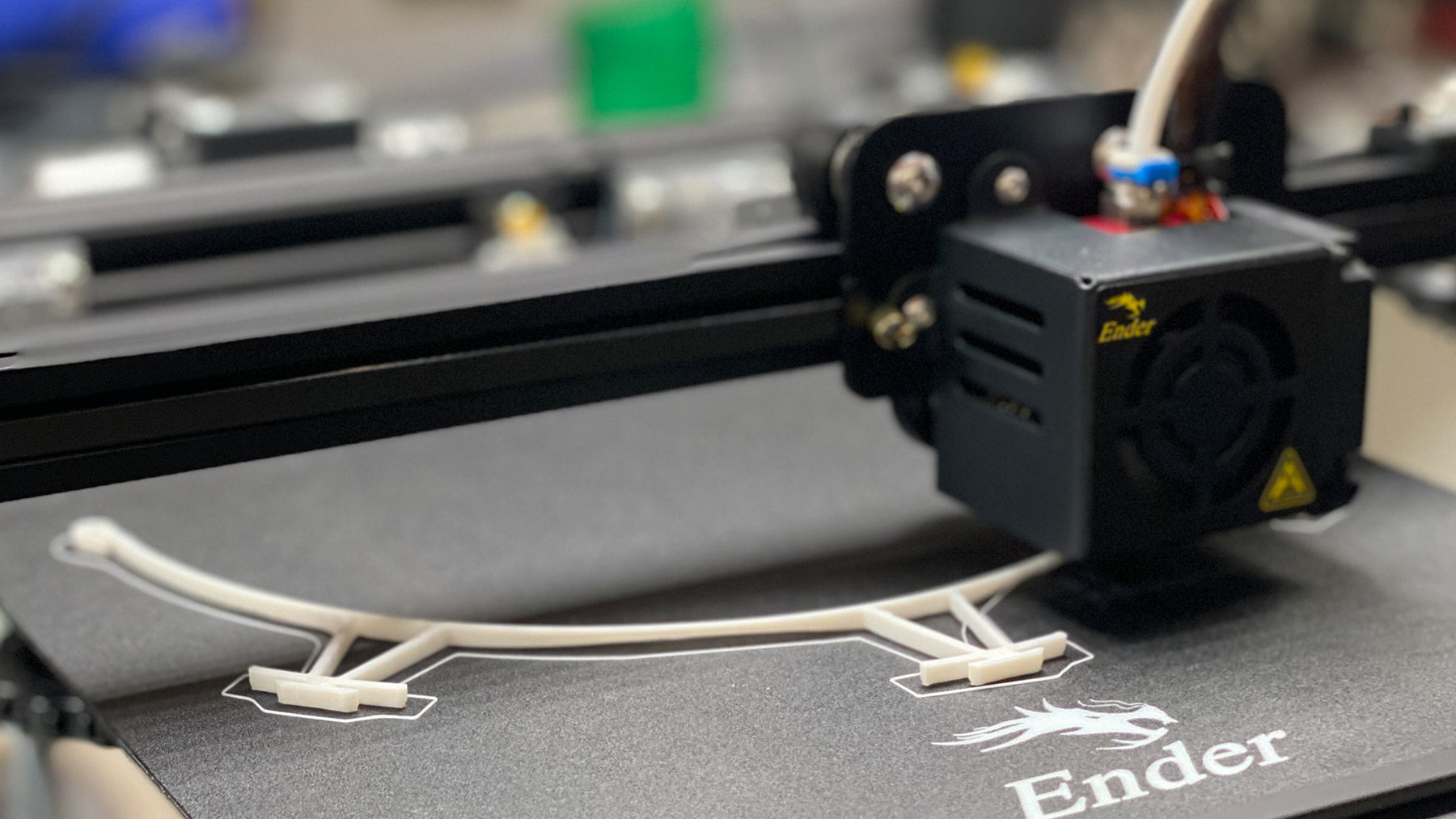 3D Printing to Protect the Front Line
Equipping Our Front Line
We're always working and striving to design and develop innovative products better serve our clients.  Jeff Moss (Moss LED Inc. Founder and CEO) and Nelson Corsi (our in-house engineer) were gearing up to create prototypes of a few new products – and had ordered a brand-new 3D printer to aid in this endeavour.
It had just arrived at our shop when the urgent call went out from healthcare workers for PPE equipment.  There is a lot of concern amongst healthcare workers here in Ontario, and across the country, that they will run out of critical Personal Protective Equipment within days. "All levels of government and front-line hospital staff are asking us, as citizens of this country, to do whatever we can to help," Jeff explained.
"Fighting this virus is effectively our generation's World War II call to-action moment," Jeff continued, "We need to fight this virus on all fronts as quickly and efficiently as possible so we can recover sooner rather than later."  It was thus decided that our new 3D printer was to be immediately reassigned from prototype work to manufacturing visor frames for front-line healthcare workers.
We now have two 3D printers working nearly around the clock.  During the day they're printing visor frames at a rate of about 1 an hour.  Overnight the machines are left to print reusable face masks which take about 10.5 hours to print 2.
#thePPEdrive.com initiative, initially started in Toronto to support Michael Garron Hospital's PPE Drive, now has listings for hospitals across Ontario, detailing what's needed at each location.
Items such as protective gloves, vented goggles, gowns, hand sanitizer, both surgical and N95 masks, and face shields are all in high demand.
Face shields is where the call went out to the 3D printing community. 
Basic face shields are made up of 3 primary parts; the actual clear shield that protects the face, a frame to hold the shield in place, and an elastic to keep the frame on the user's head.
The shield can be as simple as using a (sterilized) page protector, or any other piece of plastic that you punch 3 holes into.  Hospitals are saying they currently have enough options for the actual shields.
Elastics, also available from your local office supply cabinet are supposedly available in wide supply at the moment.
But the frame to hold their home-made shields in place is a bit trickier.  That's where the 3D printing community comes into play.  Designs for the type of frames that they're looking for have been posted to their website.  These designs are ready to load into a 3D printer and start producing.
Helping Fight COVID-19 One 3D Printed Visor Frame At A Time
We've been 3D printing visor frames for a couple of weeks now.  Each printer can make a frame in about an hour.  Every few days Jeff does a run to local hospitals to drop them off to be used by front line healthcare workers.
At this point, we've been producing frames for #thePPEdrive for over a couple of weeks.  We're able to produce about 1 an hour and run the printer constantly.  Upon hearing what we were doing, one of our friends felt the need to help us and donated money to buy a second 3D printer as well!  Currently we have 2 printers pumping out Visor frames all day, every day.
Putting what effort we can into helping the cause is important to us.  "This is the most trying time and challenging moment of our generation," Jeff says, "This virus has the ability to kill tens of thousands of Canadians in the coming weeks."
If you want to help too, we've got the manpower to build more 3D printed elements for front line PPE - we just need the tools.  You can reach out to Jeff and he'll be happy to discuss ways you can contribute.
Or, visit thePPEdrive.com website and see what items your local hospital(s) may need.  If you've got some laying around, they'd be most grateful for your donation.  Instructions on how to deliver the supplies are also provided.
For now, our priority is getting through this pandemic together… we'll get back to lighting entertainment (and beyond) soon.