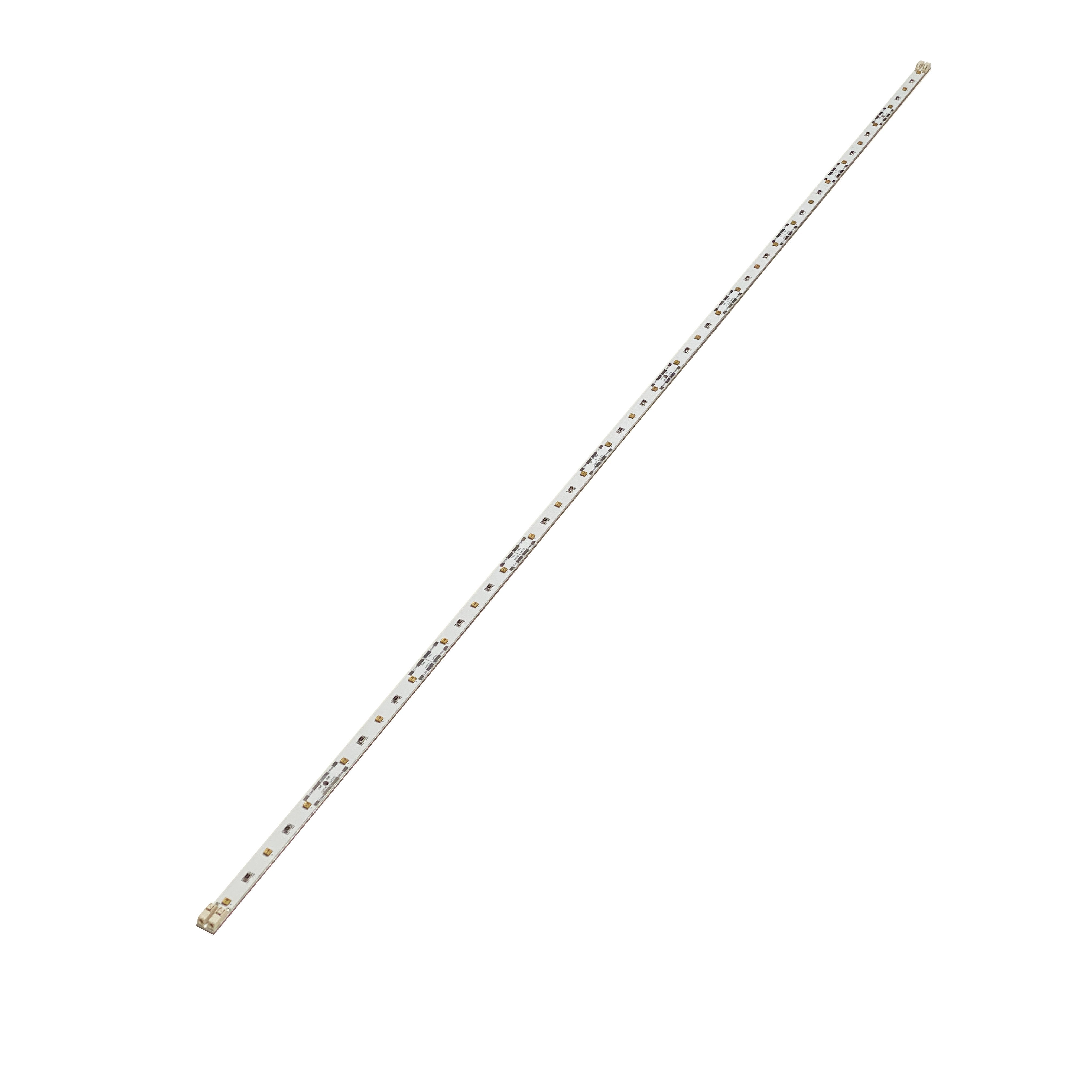 UV-C LED Bar
SKU
I-24V-UV-265-300-3528
Save

Liquid error (snippets/product-badge line 32): Computation results in '-Infinity'

%
This bar outputs 265nm wavelength of light in the UV-C range.  High quality germicidal LEDs.

Great for Disinfection of Close Distance Surfaces Such As:
Work surfaces
Countertops
Tools
Masks
Electronics
Equipment 
Our LED bar has been designed to sterilize surfaces that are within close proximity to the bar or strip.  We recommend not being further than 12" away from the surface you are trying to sterilize.  For example our 265nm UV-C 1 meter bar calculation provides 0.02mW/cm2 over an area of 1m x 10cm at 12.5cm (5") distance. It will take approximately 6 minutes to get a dose of 7 mJ/cm2 (good for 99% reduction).  If we double the time to 12 minutes, the % reduction increases 10 times to achieve 99.9%.  We will be releasing a calculator soon to be able to allow end users to decide how long to run their UV-C LED bar according to their throw distance.       
The UV-C Bar with channel does not include a cover as UV-C wavelength light does not pass through plastic.
Features:

24 Watt / meter

Quartz Glass UV LED
120 Degree Beam Angle
Secure Solderless Quick Connectors
Rigid PCB for Optimal Heat Dissipation
Ozone Free
What is UV-C ? 
The human eye can detect wavelengths from 380nm to 700nm.  Ultraviolet light falls below the 380nm wavelength and is divided into four segments.  100nm ~ 200nm is vacuum UV;   200nm ~ 280nm is UV-C or Far-UV;   280nm ~ 315nm is UV-B and 315~ 400nm is UV-A.  UV-C radiation is scientifically proven to break the DNA of bacteria, viruses and spores.  More recently it has been proven effective at eliminating coronavirus from surfaces and potentially air & water.  It is a proven technology that can be used for multiple purposes including in water & air treatment but is primarily employed as a disinfection process that inactivates micro-organisms without the need for harmful chemicals.   
 Warnings & Precautions
When in operation this product emits UVC radiation which is not visible to the human eye.

UVC radiation can cause skin irritation and damage to your eyes.  Never look at a UV emitter!

UVC radiation can cause surfaces such as fabric, plastics, rubber, and painted surfaces to prematurely fade or degrade.  We recommend using the minimum dose required to disinfect based on distance between the UVC product and the surface you are trying to irradiate.

The device has not been approved by Health Canada or the FDA. 
SPECIFICATIONS - INDOOR PRODUCT
| | | | |
| --- | --- | --- | --- |
| Product Type | : | Rigid Bar - 1 Meter | Rigid Bar with Channel - 1Meter |
| Product Code | : | I-24V-UV-265-300-3528 | I-24V-UV-265-300-3528-CH1506 |
| CRI | : | N/A | N/A |
| Emitting Wavelength  | : | 260 ~ 270nm | 260 ~ 270 nm |
| Typical Wavelength | : | 265nm  | 265nm |
| Current, Rating | : | 1 A / meter | 1 A / meter |
| Voltage | : | 24 VDC | 24 VDC |
| Wattage | : | 24 W / meter | 24 W / meter |
| CC / CV | : | Constant Voltage | Constant Voltage |
| IP Rating | : | IP43 | IP43 |
| Radiant Intensity | : |  120mW (4mW / LED) | 120mW (4mW / LED) |
| Lumen / Watt | : |  N/A |  N/A |
| Lifetime* | : | 30,000 hours | 30,000 hours |
| Cutting Length | : | 10 CM | 10 CM |
| LED Quantity | : | 30 LED / meter | 30 LED / meter |
| Number of Contacts | : | 2 | 2 |
| LED Type | : | 3535 Quartz Glass  | 3535 Quartz Glass |
| Copper Quantity | : | 3 Oz. | 3 Oz. |
| Temperature, Operating, Maximum | : | 70 C | 70 C |
| Temperature, Operating, Minimum | : | -40 C | -40 C |
| Agency Ratings | : | UL - E489028, CE, RoHS | UL - E489028, CE, RoHS |
| PCB Width | : | 10 MM | 10 MM |
| Maximum Recommended Length | : | 5 meters | 5 meters |
| Viewing Angle | : | 120 degree | 120 degree |
| Adhesion | : | 3M Adhesive | 3M Adhesive |
DOWNLOADS
Specification Sheet

UL Certificate of Compliance
*nominal lifetime - dependent on installation location