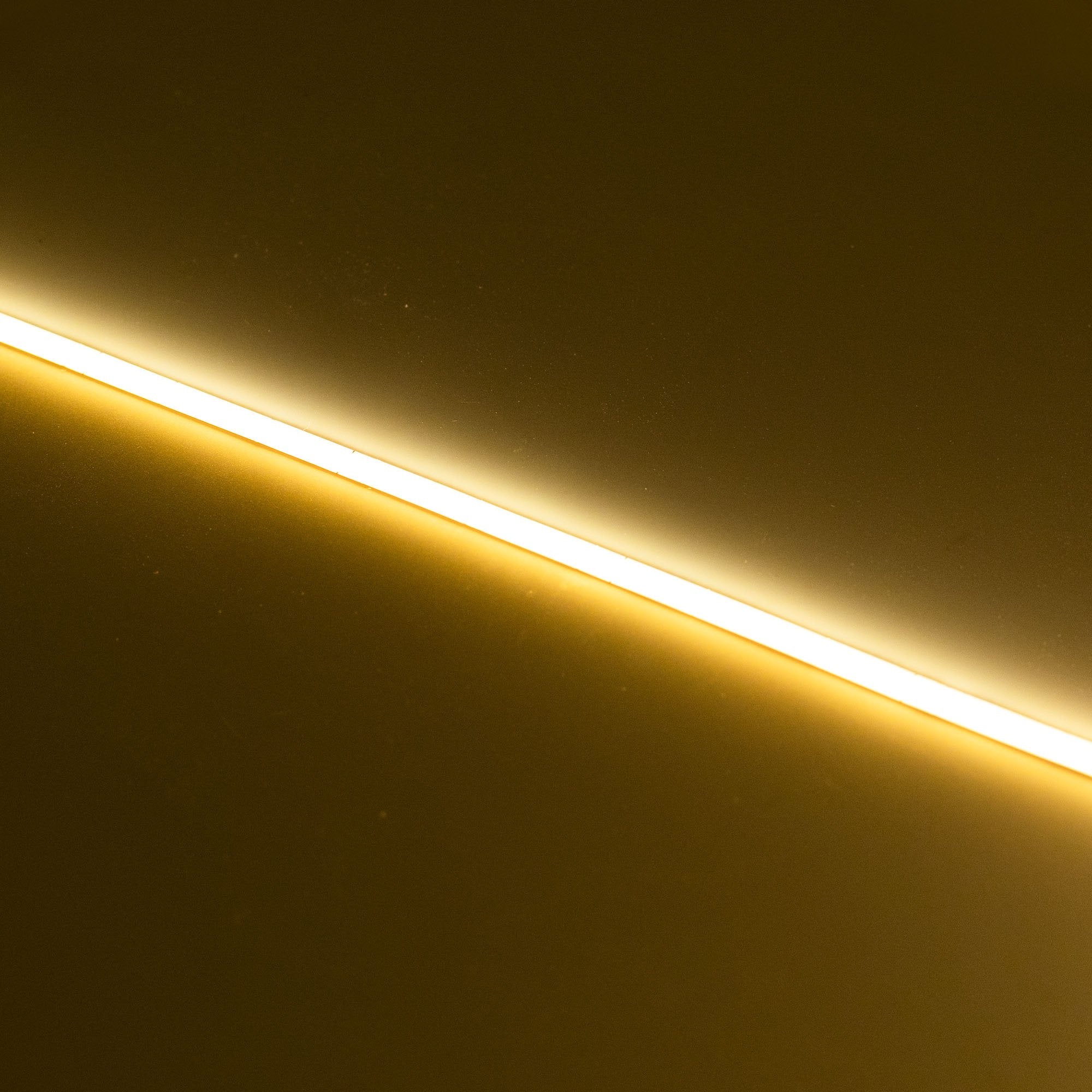 SoftFLEX Slim LED 528 White 12V
SKU
CV-USCOBI528-2700-95-12-WBEW
Save

Liquid error (snippets/product-badge line 32): Computation results in '-Infinity'

%
Industry Standard 2700k, 3000k, 4000k, and 6500k High CRI >95
528 LED/Meter SoftFLEX Slim (only 5mm in width) LED Tape in 12VDC (5 meter lengths)
SoftFlex in 12VDC allows for extreme flexibility and durability as well as a very close cut point at 2.26CM. We recommend powering this strip ever 2.5 meters as it is a higher current than the 24VDC version and the high flexibility has been achieved by reducing the copper content in the strip. Reduced copper means better flexibility but voltage drop will occur faster.

Suitable for on-camera use, or anywhere a high-quality white light is required.
High CRI (Colour Rendering Index) >95. No green spike or colour spectrum deficiencies.
Indoor and weatherproof strips have 3M double-sided tape on the back which makes installation as easy as peel n stick.

Soldering Guidelines:
Soldering iron should be between 360°C and 372°C.  Please ensure not to heat each solder pad for longer than 3 seconds otherwise separation of the solder pads can occur.
Waterproof must be mounted using silicone (not provided)
Controller, power supply and extension cables sold separately
Quantity discounts and custom color temperatures available.
Please call 1.800.924.1585 or email info@mossled.com to inquire.
For specifications on Weatherproof and Waterproof product please download specifications sheet below.
SPECIFICATIONS - INDOOR PRODUCT
Product Type
:
 Super Warm White  Slim
Warm White Slim
Neutral White Slim
Cool White Slim
Product Code
:

CV-USCOBI528-2700-95-12-W

CV-USCOBI528-3000-95-12-W

CV-USCOBI528-4000-95-12-W

CV-USCOBI528-6500-95-12-W

CRI
:
 95
95
95
95
Kelvin
:
 2700k +/- 100k
3000k +/-100k
4000k +/-100k
6500k +/-100k
PCB Color
:
 White
White
White
White
Current, Rating Per Meter
:
0.75A
 

0.75A

0.75A

0.75A

Voltage
:
 12 VDC
12 VDC
12 VDC
12 VDC
Wattage Per Meter
:
 9W
9W
9W
9W
CC / CV
:
 Constant Voltage
Constant Voltage
Constant Voltage
Constant Voltage
IP Rating
:
 IP21
IP21
IP21
IP21
Lumens @ Full per meter
:
 675 lm
 726 lm
 777 lm
 828 lm
Lumen / Watt per meter
:
 75 lm/w
80 

lm/w

 
86 

lm/w

 92 

lm/w

Lifetime*
:
 40,000 hours
40,000 hours
40,000 hours
40,000 hours
Cutting Length
:
 2.26 CM
 2.26 CM
 2.26 CM
2.26 CM
LED Quantity per meter
:
 528 chips
528 chips
528 chips
528 chips
Number of Contacts
:
 2
2
2
2
LED Type
:
 COB
COB
COB
COB
Copper Quantity (ounce)
:
 2
2
2
2
Temperature, Operating, Maximum
:
 70 C
70 C
70 C
70 C
Temperature, Operating, Minimum
:
  -40 C
-40 C
-40 C
-40 C
Agency Ratings
:
 UL - E489028, CE, RoHS
UL - E489028, CE, RoHS
UL - E489028, CE, RoHS
UL - E489028, CE, RoHS
PCB Width
:
5 MM
5 MM
5 MM
5 MM
Maximum Recommended Length
:
 5 meters (power from both ends or in the middle)
5 meters


(power from both ends or in the middle)



5 meters


(power from both ends or in the middle)



5 meters


(power from both ends or in the middle)



Viewing Angle
:
 120 
120
120
120
Adhesion
:
 3M 55280

3M 552

80

3M 552

80

3M 552

80
DOWNLOADS
Specification Sheet

UL Certificate of Compliance
*nominal lifetime - dependent on installation location


SaveSave
Save
Save
Save
Save
Save
Save
Save
Save
Save
Save
Save
Save
Save
Save
Save
Save
Save
Save
Save
Save
Save
Save
Save
Save
Save
Save
Save
Save
Save
Save
Save
Save
Save
Save
Save
Save
Save
Save
Save
Save
Save
Save