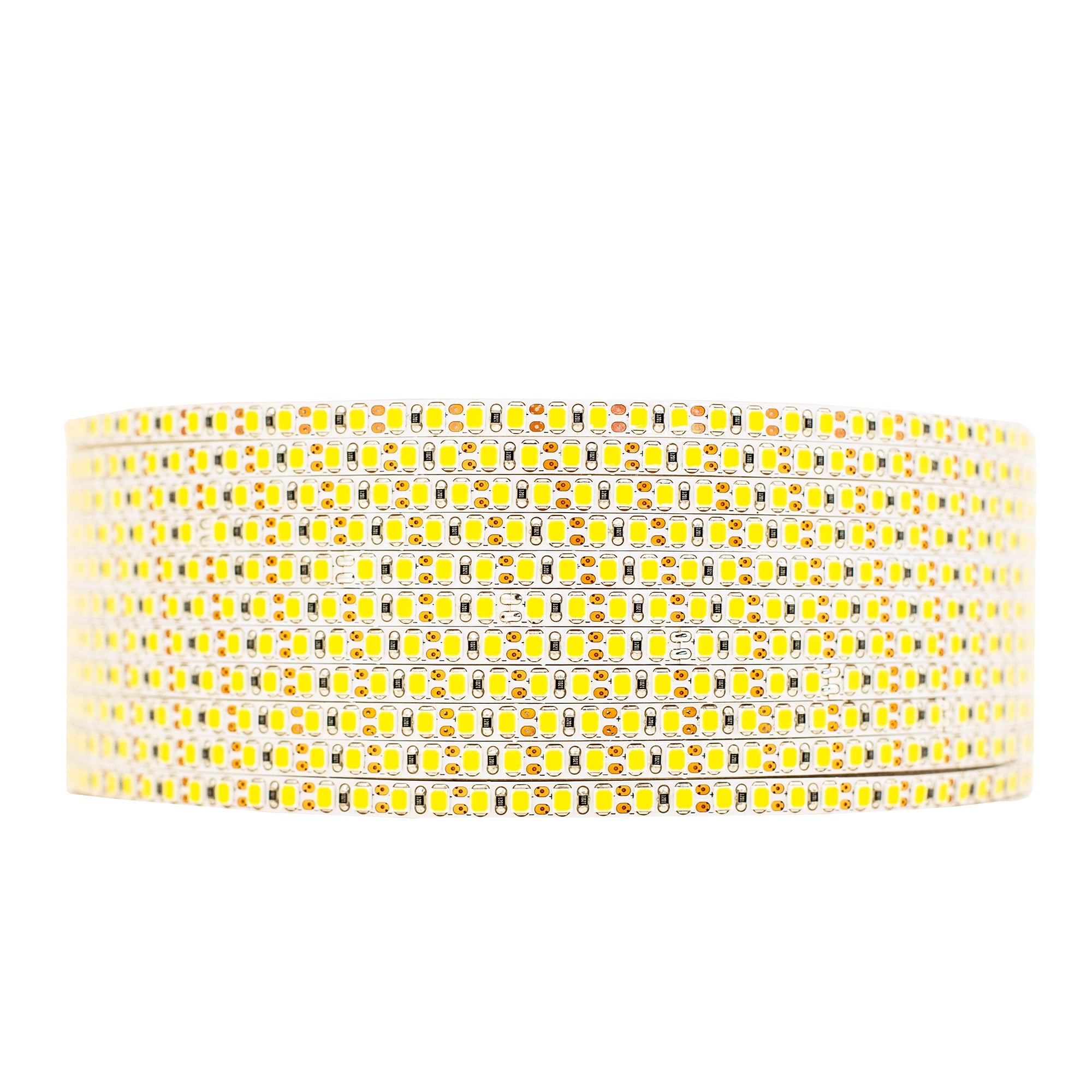 ShortCut FlexLEDslim 180 White 24V
Save

Liquid error (snippets/product-badge line 32): Computation results in '-Infinity'

%
Our smallest highest precision cutting length FlexLED ever. 
Only 5MM wide and 11MM (0.43") cut points! 
Industry Standard 2700k, 4100k, and 5600k
High CRI & TLCI over >97
180 LED/Meter Flex LED Tape in 24V DC (5 meter lengths)
The 180 LED/meter is extremely high density and narrow width at only 5MM.  It is ideally suited for areas where high output in a very tight space is required. With a cut point of 11M (0.43") this is LED can get your installation to the closest precise cut-point required. If that weren't enough, this new chip technology is our best full-spectrum white LED ever created. This LED is near-perfect colour rendering with a typical CRI at 98 and TLCI at 99 requiring no post colour correction. This LED is high efficiency at over 100 lumen/watt and produces vibrant colours for the eye and the camera.

Suitable for on-camera use, or anywhere a high-quality white light is required.
Soldering Guidelines:
Soldering iron should be between 360°C and 372°C.  Please ensure not to heat each solder pad for longer than 3 seconds otherwise separation of the solder pads can occur.

Indoor and weatherproof strips have 3M double-sided tape on the back which makes installation as easy as peel n stick. 
Waterproof must be mounted using silicone glue or similar.
Controller, power supply and extension cables sold separately
Quantity discounts and custom color temperatures available.
Please call 1.800.924.1585 or email info@mossled.com to inquire.

Pricing is for 5 meters (16.4')

SPECIFICATIONS - INDOOR PRODUCT
Product Type
:
Warm White
Neutral White
Cool White
Product Code
:
SC-I24VWW279002835
SC-I24VNW419002835
SC-I24VCW569002835
CRI
:
95+
95+

95+

Kelvin
:
2700k +/-100k
4100k +/-100k
5600k +/-135k
PCB Color
:
White
White
White
Current, Rating
:
0.6 A / meter
0.6 A / meter
0.6 A / meter
Voltage
:
24 VDC
24 VDC
24 VDC
Wattage
:
14.4 W / meter
14.4 W / meter
14.4 W / meter
CC / CV
:
Constant Voltage
Constant Voltage
Constant Voltage
IP Rating
:
IP43
IP43
IP43
Lumens @ Full
:
1540 lm / meter
1540 lm / meter
1540 lm / meter
Lumen / Watt
:
107.1
107.1
107.1
Lifetime*
:
30,000 hours
30,000 hours
30,000 hours
Cutting Length
:
3.3CM
3.3CM
3.3CM
LED Quantity
:
180 LED / meter
180 LED / meter
180 LED / meter
Number of Contacts
:
2
2
2
LED Type
:
2835
2835
2835
Copper Quantity
:
3 Oz.
3 Oz.
3 Oz.
Temperature, Operating, Maximum
:
70 C
70 C
70 C
Temperature, Operating, Minimum
:
-40 C
-40 C
-40 C
Agency Ratings
:
UL - E489028, CE, RoHS
UL - E489028, CE, RoHS
UL - E489028, CE, RoHS
PCB Width
:
5MM
5MM
5MM
Maximum Recommended Length
:
5 meters
5 meters
5 meters
Viewing Angle
:
120 degree
120 degree
120 degree
Adhesion
:
3M 200MP

3M 

200MP

3M 

200MP
DOWNLOADS
Specification Sheet

UL Certificate of Compliance
 Declaration of Conformity (CE & RoHS)
 REACH Report 1907/2006
*nominal lifetime - dependent on installation location