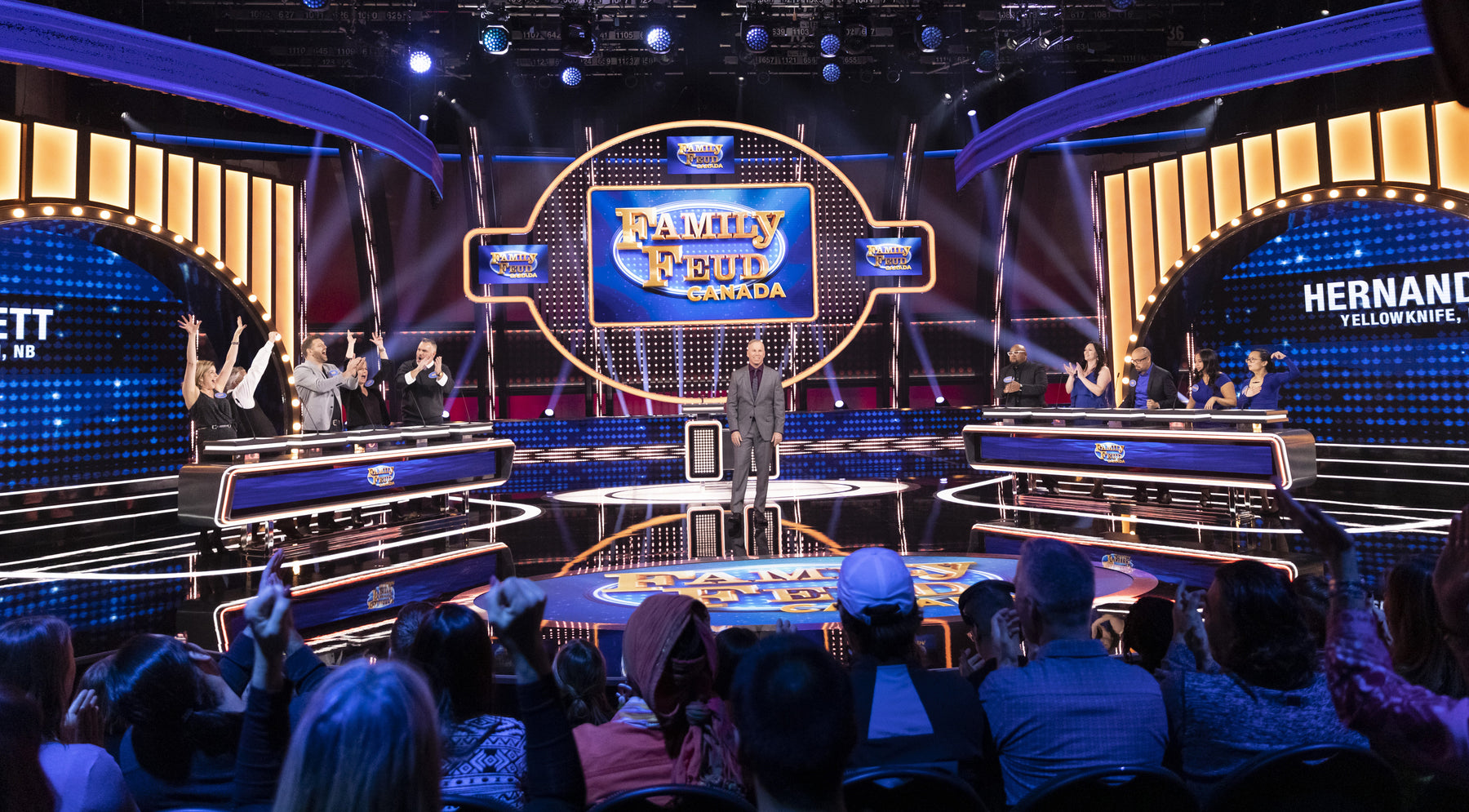 Family Feud Canada
Survey Says...
Currently in its fifth season on air, the perennial favourite of Canadian households brings families from across the country together to compete against each other in guessing the results of the audience survey.
Hosted by actor and comedian Gerry Dee, two competing families vie for a prize of up to $30,000 by guessing the most popular answers from the audience to a specific prompt. Unexpected answers to the simplest questions makes the show full of unpredictable moments, and hilarity ensues! 
The iconic "survey says" game board is highlighted by our FlexLED 60 RGBA 24V (All-In-One Diode) and FlexLED 96 RGB+W 24V 5600K to create a focal point on set. Our 12V RGBW Pixel Dots controlled through PixlArt 416 controllers were also used to create a floating pixel design.
Not to be outshone by the game board, the host/contest podiums, stairs, floor highlights, and headers were all lit using a combination of FlexLED and DiffuseFlex products—powered by Moss VentiDrive and Dodici-LED DMX dimmers—to create a cohesive and exciting set suited to a top game show franchise. The arches behind the contestants are plexiglass lightboxes lit by FlexLED 60 RGBA 24V and controlled by our rental VentiDrives. Each panel has individual control and—with the help of our 5-Pin Extensions—was a breeze to install. 
For more information on the products used in this project:
• FlexLED 96 RGB + White 24V 5600K
• DiffuseFlex LED RGBW 5600K
• FlexLED 60 RGBA 24V (All-In-One Diode)
• 12V RGBW Pixel Dots
• VentiDrive 24-Channel Dimmer
• Dodici-LED DMX 12-Channel Dimmer
• PixlArt 416
Production design: Alex Nadon (InFrame Designs)
Photos: Family Feud Canada