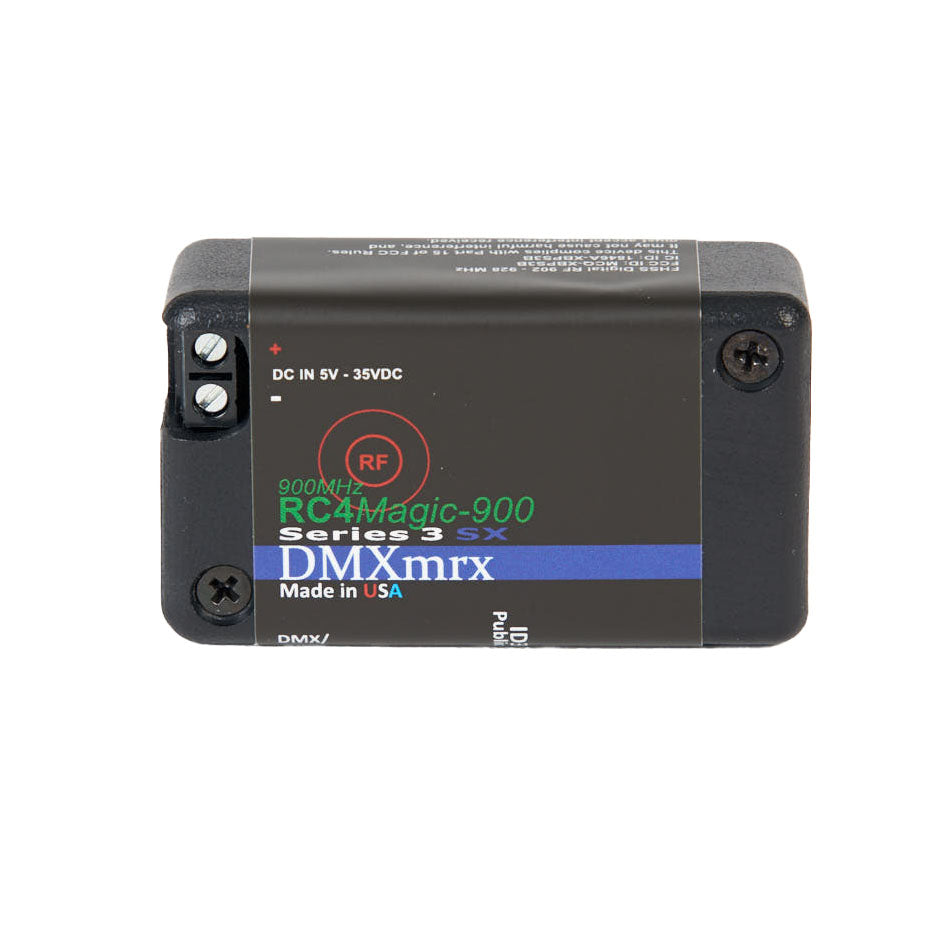 RC4M-900SX DMXmrx Miniature Data Receiver
Receiving DMX data is fast, easy and secure with the RC4Magic-900SX DMXmrx.

This is RC4's smallest 900MHz DMX receiver for customers in the USA, Canada, Australia, New Zealand and Brazil and includes the RC4Magic Two-Year Warranty.

Each mrx purchase includes a 3.5mm Miniplug to 5-Pin XLR (Female) Adaptor Cable.

YOU MUST UPDATE RC4 COMMANDER SOFTWARE WHEN ADDING NEW DEVICES TO RC4MAGIC SYSTEMS. THIS UPDATE IS MANDATORY FOR COMPATIBILITY WITH BOTH OLD AND NEW VERSIONS OF RC4MAGIC FIRMWARE. Visit our downloads page.
Compact and easy to use, the RC4Magic-900 SX DMXmrx DMX 512 receiver is the perfect solution for a fixture or a prop positioned in an unusual or a hard to reach location. Simply Velcro or tie-wrap the DMXmrx to the fixture or prop, connect the XLR cable and power and you're done. Working with the RC4Magic-900 SX DMXmrx is as easy as that.

The RC4Magic-900SX DMXmrx combines that classic features of the ever popular DMXmrx and takes in into 900MHz. Interference from other wireless devices is literally a thing of the past when using the 900SX series of products, and the result is a signal that's faster, more secure, and more reliable.

Like all RC4Magic devices, it includes a built-in radio receiver and uses RC4 OneTouch™ for easy assignment of any DMX channel and dimmer curve to any dimmer with a single press of a single button. Device configuration can also be done with Remote Device Management (RDM) and RC4 Commander Configuration Software.

The RC4 Harmonized Design™ philosophy applies to the RC4Magic-900 SX DMXmrx; operation of this receiver is the same as many of the other RC4 receivers. So there's nothing new and complex to learn; the RC4Magic-900 SX DMXmrx is simply a smaller version of an old friend.

The mini-plug wired DMX data port can be used with a range of RC4 DMX cables, including 3-pin and 5-pin male and female XLR adapters. The most common adapter is the RC4DMX5FA with 5-pin female XLR connector. This port can output DMX data to nearby fixtures including fog machines, moving lights, and projector dousers. The DMX port can also be configured as a DMX input, allowing the DMX6dim-500 to be used as a wired dimmer.

Learn more about the RC4Magic-900 SX DMXmrx and what it can do at the RC4 Wireless Knowledge Base.

All prices and specifications are subject to change without notice. 
TECHNICAL SPECIFICATIONS
Dimensions:

 

60mm x 35mm x 20mm
Weight:

 

1.05oz
DMX Output:

 

RC4 3.5mm mini, USITT DMX512/1990 data, non-standard port. RC4DMX5F miniplug to female 5-pin XLR adaptor cable included
Power Input:

 

6VDC – 35VDC, 0.4W idle, screw terminals
Series 3 Versatility:

 

Dongle Mode combined with an RC4 CodeLoader Cable™ becomes the hardware interface for RC4 Commander Software
Sensors:

 

Input voltage, internal temperature
RF Antenna:

 

hidden internal, omnidirectional
DOWNLOADS