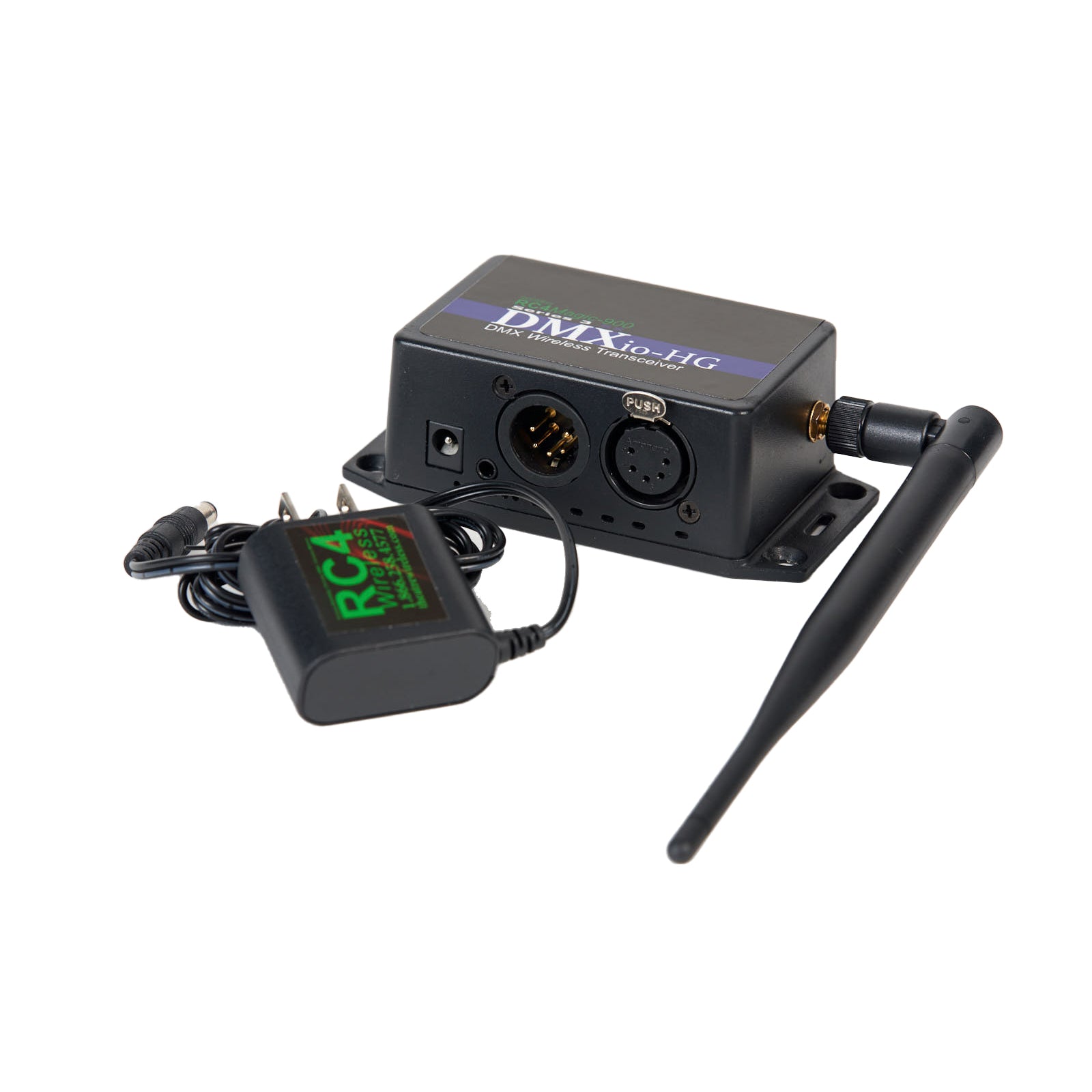 RC4M-900SX DMXio - HG Data Transceiver
Save

Liquid error (snippets/product-badge line 32): Computation results in '-Infinity'

%
Best-in-class data security, the congestion-free 900MHz band and the RC4Magic Two-Year Warranty make the RC4Magic-900SX DMXio the very best choice for reliable wireless DMX. RC4Magic-900 operates in the 902-928 MHz RF band, licensed ONLY for use in USA, Canada, Australia, New Zealand and Brazil. 

Fast, Secure Wireless DMX Transmission and Distribution
The RC4Magic-900SX DMXio-HG transceiver is ideal for dimming lamps, LEDs and more, while providing state of the art security and best-in-class, congestion-free 900MHz wireless dimming for customers in the USA, Canada, Brazil, Australia, and New Zealand.

The 900SX DMXio-HG transceiver is a smart device that automatically detects other wireless transmitters, and will automatically switch to receive mode. Manually switching modes is as simple as a push of a button. The 900SX DMXio transceiver—working with another 900 SX DMXio or with another RC4 900SX wireless DMX device- is the ideal hub for all wireless 900MHz dimming in theater, arenas, films, television and even in architectural applications.

900MHz avoids the congested 2.4GHz band and provides a fast, reliable, secure signal up to 600 feet (180m) or more inside theatres and other performance spaces, and to 1000 feet (300m) or more outdoors. Three DMX universes—and occasionally more- can operate safely and reliably in the 900MHz band, thanks in part to RC4 System IDs. This means interference-free operation anywhere, anytime.
TECHNICAL SPECIFICATIONS
Dimensions: 3.4" x 2.3" x 1.55" nominal (approx. 86mm x 59mm x 40mm). Mounting flanges extend an additional 0.5″ (13mm), for a bottom footprint of 4.4″ x 2.3″ (112mm x 59mm)
Weight: 3.60oz
DMX Input/Output: meets USITT DMX512/1990. XLR5 male and female, and RC4 non-standard miniplug port
Power Input: 6VDC – 35VDC, a world-voltage 90 – 250VAC high-efficiency AC adaptor is included. International purchasers will receive a multi prong adapter with connections for Europe, UK, Australia, and North America. North American customers will receive a standard adaptor for use in USA and Canada.
Series 3 Versatility: DMX termination enable/disable; selectable top/bottom DMX channel; selectable RF power output levels (RC4Magic-900 900MHz* FHSS 250mW max.) Dongle Mode combined with an RC4 USB CodeLoader Cable becomes the hardware interface for RC4 Commander Software
902-928MHz RC4Magic-900 RF Antenna: RP-SMA external antenna with nominal 243m range is included. Range can be further extended using high-gain and/or directional antennas where regulations permit
Transmitter Mode
Only 1 DMXio transmitter should be operated on each system ID
DMX Input: meets USITT DMX512/1990(4us) with 1-second data hold after dropout
DMX Output: straight-thru hardware connection from DMX input to output
Optional DMX channel limiting: set lowest and highest channel using RC4 OneTouch (default is full 512-channel universe)
Receiver Mode
Any number of DMXio receivers may be used in a system
DMX Output: meets USITT DMX512/1990
The DMX specification allows up to 32 devices on a DMX output.  The DMXio data output exceeds this requirement and is capable of driving additional devices
Internally protected against static discharge and excessive line loading
RC4Magic DMX Protocol Compliance
DMX inputs and outputs comply with USITT DMX512/1990(4us)
Packets with non-zero start codes are not transmitted; RC4Magic cannot transfer proprietary data or RDM packets
DMXio receiver output replicates DMXio transmitter input, providing the same number of DMX channels and the same number of packets per second (pps)
Minimum number of DMX channels per packet: 1
Maximum number of DMX channels per packet: 512
Maximum packet-per-second rate: 44pps with 512 channels, 10000pps with 1 channel
DOWNLOADS