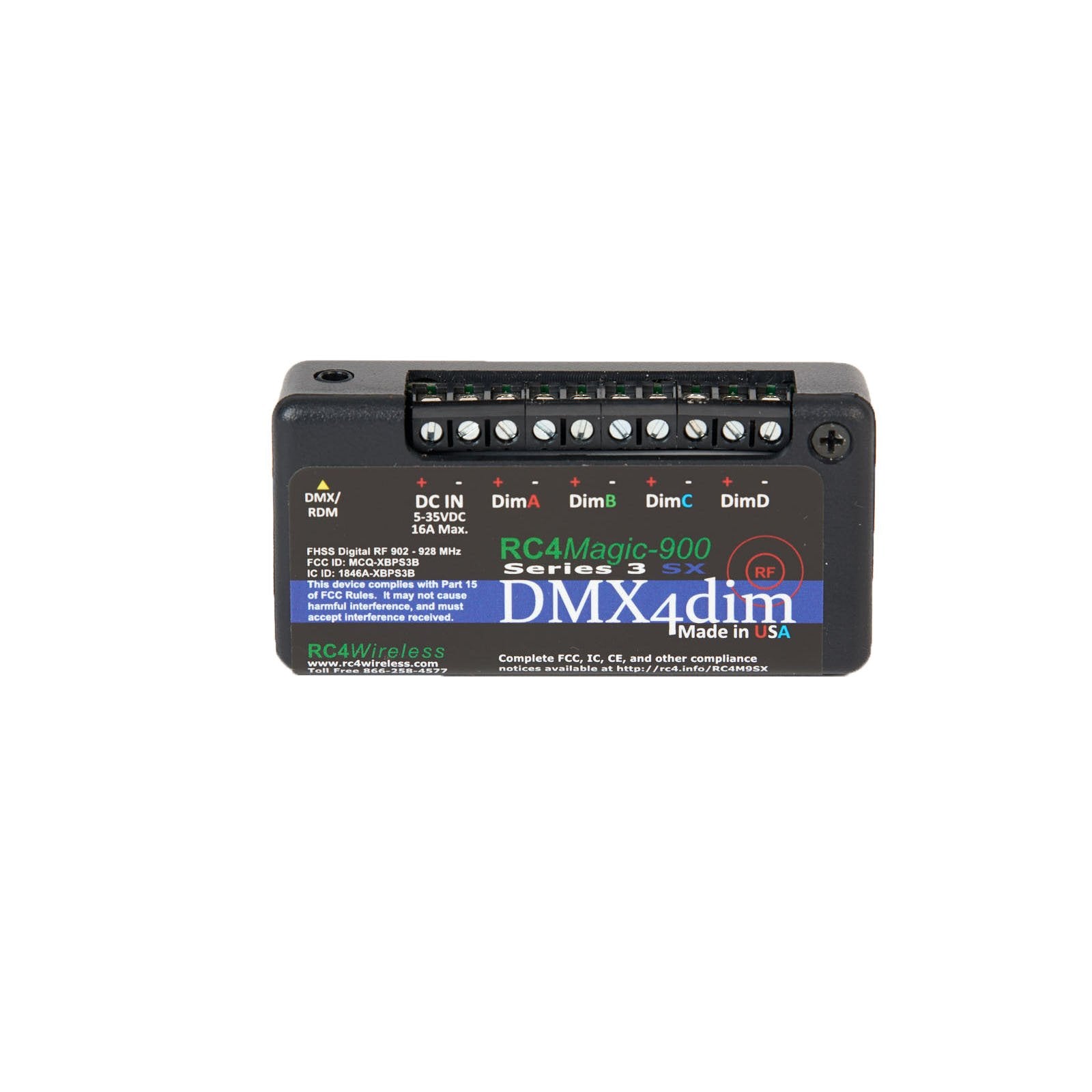 RC4M-900SX DMX4dim 4-Channel Wireless Dimmer
Save

Liquid error (snippets/product-badge line 32): Computation results in '-Infinity'

%
A battery-powered 4-channel wireless DMX dimmer for LEDs, lamps, and motors in small props, costumes, and more.  RC4Magic-900 operates in the 902-928 MHz RF band, licensed ONLY for use in USA, Canada, Australia, New Zealand and Brazil.  In other jurisdictions, including Europe, Asia, and Africa, our 2.4GHz RC4Magic Series 3 systems are the perfect choice.
 Dimming LEDs, lamps, prop motors and more is easy with the RC4Magic-900SX DMX4dim, a four channel, battery powered DMX 512 900MHz dimmer for use in the USA, Canada, New Zealand, Australia, and Brazil.

The 900SX DMX4dim is fast, easy and secure, thanks to the 900MHz band. In the 900MHz band, there is less wireless interference and, thanks to RC4 System IDs, the signal is safer and more secure bandwidth. The 900SX DMX4dim is also eligible for the RC4Magic Two-Year Warranty, the only one of its kind in the industry.

Only slightly larger than the RC4Magic-900SX DMX2dim, the 900SX DMX4dim provides a total of four dimmers. Like all RC4Magic-900SX devices, it includes a built-in radio receiver and uses RC4 OneTouch™ for easy assignment of any DMX channel and dimmer curve to any dimmer with a single press of a single button. Device configuration can also be done with Remote Device Management (RDM) and RC4MagicPC configuration software.

The 900SX Series of products now includes 19-bit dimming, which is eight times finer than 16-bit with a whopping 524,000 steps of resolution. For users, this means exceptionally smooth LED dimming, especially at the bottom end of the curve, which can be problematic. The entire 900 Series also features dimmer curve crossfading to each individual dimmer; this enables users to tweak the dimming curve 256 steps for each separate dimmer output.

The 900SX DMX4dim has the same features that have made the RC4Magic S3 2.4SX DMX4dim one of our best-selling products and function in exactly the same way; the only difference is the bandwidth.

Features include:

RC4 System IDs
HSL Color Controller
RC4 ColorMatch
RC4 Flkr Effects Engine
RC4 HotPatch
Variable PWM Frequency
RC4 Digital Persistence
The 900SX DMX2dim is manufactured in the USA for use in the US, Canada, New Zealand and Brazil. The 2.4GHz RC4Magic Series 3 products are ideal for consumers in all other areas, including Europe, Asia, Africa and all international tours.

All prices and specifications are subject to change without notice.
TECHNICAL SPECIFICATIONS
Dimensions:  3.14″x 1.5″ x .78″ (80mm x 40mm x 20mm)
Weight: 4.1oz
Power Input: 6VDC – 35VDC, 0.4W idle, screw terminal connections
Dimmer Outputs: 4 dimmers, screw terminals; 77Hz (high power), 615Hz (flicker free), 1.2kHz, 5kHz (artifact free for video), 10kHz, 20k77Hz, 615Hz, 1.2kHz, 5kHz, 10kHz, 20kHz (noise free for audio), 40kHz PWM; 19-bit (524,000 steps); Non-Dim, Linear, ISL, servo control; ac-wave (ring telephone and more); 8 levels of RC4 Digital Persistence™
Series 3 Versatility: DMX dimming, RC4 Flkr Engine™, RC4 ColorMatch™, RC4 HSL Color Controller, RC4 HotPatch™, RC4 Commander 3.x compatible, wired DMX in/out, wired RDM input, Dongle Mode combined with an RC4 USB CodeLoader Cable becomes the hardware interface for RC4 Commander Software
Sensors: Input voltage, internal temperature, total current draw
DMX Input/Output: USITT DMX512/1990 data, RC4 3.5mm mini non-standard port
Maximum Output Power per Channel: 10A non-continuous, 5A continuous
Maximum Total Device Power: 16A (limited by screw terminal safety rating)
RF Antenna: hidden internal omnidirectional; optional external antenna available at additional cost
DOWNLOADS